Join the fun with
our FamilyHeart exclusive
Funny Things
Kids Say

Checkout our MESSAGE BOARD



Northern Colorado
Cities
Northern Colorado Snapshot

Northern Colorado Resources



Welcome to FamilyHeart!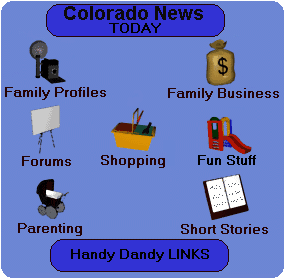 Before you leave, please sign our guestbook and add a bookmark!!



FamilyHeart behind-the-scenes: Current projects include a Colorado Travel Resource site and the addition of a "Funny Things Kids Say in Church" page. Don't forget to suggest your ideas. You can either E-mail a suggestion or place it on the message board. Checkout FamilyHeart in the Spotlight Be sure to tell us your favorite Fort Collins, Greeley or Loveland Links, we'll add them to the Handy Dandy link page.
Family Profiles|| Family Business Center|| Family Discussions|| Internet Shopping|| Family Fun|| Parenting Today's Kids|| Story Time|| Internet Resources|| Local News|| Fort Collins|| Loveland|| Greeley






Fort Collins, Loveland, and Greeley Colorado Family and Community
New FamilyHeart Parenting and Family Business articles are posted DAILY! Join in on the fun with our FamilyHeart exclusive Funny Things Kids Say page. FamilyHeart is 100% Family Friendly: Parents, please visit our Internet safety partners at SmartParent.com

FamilyHeart would like to recognize Realities for Children for contributing $80,000 to the Fort Collins and Loveland children in need.


Inspired by children, consulted by mom and designed by dad. FamilyHeart is a down-to-earth family and community web site for Fort Collins, Loveland, Greeley and surrounding Northern Colorado communitities.

All contents copyright 1999 by FamilyHeart
Web Site Promotion Provided by:
SharpNET Solutions


Fort Collins | Greeley | Loveland